James Burke, Tailors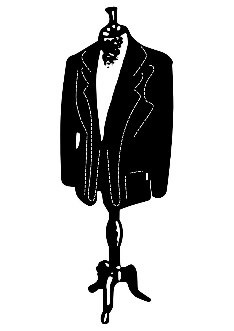 Fine English Tailoring Ltd
1 Subject and matter of the contract
The client commissions Fine English Tailoring Ltd with an order for Apparel, Bespoke Clothing, Accessories which are individually manufactured according to the body measurements and personal wishes of the client or readymade clothing is retailed to the client.
2 Order acceptance
1. The client can place his order personally in our office or by our Bespoke Visiting Service in the form of a written order. If your order is placed virtual then any warranty regarding the fit is excluded.
2. The client is obliged to check the articles and shapes noted on the order, together with special requests, before confirming their correctness and before signing the order form.
3. Orders are only placed based on acceptance of the agreed design you have ordered we regularly revise our designs. Wherever possible specific design details will be adapted to the wishes of the client within the scope of the given tailoring possibilities.
If a client specifically calls us out to consult and place an order and then decides at a date after the 14 day cool off period to not proceed with order or to cancel the order, or to postpone and has not priorly written in to cancel or make changes to his order within the 14 day period clause then a consultation fee of £150 will be charged and the cost of travelling out will be charged in the following way the petrol will be payable calculated against the mileage taken to visit client and a mileage charge of 0.13p per mile will be charged and the hours spent in travelling out and travelling back to agents base at time of you placing the order will be chargeable at a rate of £50 per hour.
If you make a call out appointment and decide that you do not wish to proceed, then the charges to be paid are calculated as above paragraph.
3 Measurements
1. In order to guarantee the fit desired by the client, it is the task of the client to inform the contractor about special features of wearing and the purpose of the garment when taking the measurements, as well as to indicate any additional wishes.
2. The client is responsible for informing the contractor carefully about the desired length dimensions of his clothing, as requests for changes of this kind cannot be accepted at the time of delivery. The client accepts and trusts the dimensions that have been taken by the measuring Tailor.
3. For measures taken without placing an order, we charge a processing fee of £100, which will be charged and is payable when the order measuring is done and taken by online debit.
4. On placing an order there is a 14-day cooling period whereby the customer can give back word or make changes on the order, any changes are required in writing /email and a confirmation of your contact must be received from us if this is not forthcoming then kindly telephone 07779 442591 Mr James Burke and discuss your wishes.
4 Deposit
1 Please Note!, unless specifically and individually agreed, orders will not be processed or started on until deposit payment received please make sure you make any changes to your order within the 14 day cool off clause.
2 For our product Mass Contemporary & Modern a deposit of 70% is required when placing the order, 30% on first fit/delivery
3 All balance payments are paid on delivery.
4 With regard to made-to-measure clothing and for tailor-made shirts, a deposit of 75% per order is to be paid, the remaining 25% is to be paid on the delivery day, regardless of fit and if changes are necessary.
5 Written Orders
Orders that are not placed and signed in our office or during a personal visit consultation can be verbally accepted and also accepted is by a handshake, we prefer orders in written form but verbally is also acceptable and binding as per the terms and conditions herewith laid out.
By special agreement we can accept orders virtually. Orders will only be processed if a deposit is paid, in the case of virtual orders payment of deposit is acceptance of our order and terms and conditions. a deposit is paid as per our payment terms on order form, orders will only be processed after deposit has been paid.
We accept no responsibility if garments ordered by this method do not fit.
6 Order acceptance based on existing dimensions
If the client waives the right to take new measures when awarding the contract, no guarantee of fit can be granted. This also applies to written orders. It is important that the customer has not seen any changes in weight and/or growth after the original measurements have been taken and that he indicates the shape and purpose of the garment when placing the order and discusses any possible size changes that could occur which will be noted on the measure form,
7 Oversize Charges
For oversized and / or overlong sizeings we charge an oversize surcharge between 10% and 50% on placing order this will be noted on order form/and agreement on the %surcharge will be added to order costs.
1. Men's sizes are valid from body size / height 6'-2"/ 192cm for suits, jackets, waistcoats and coats from above chest size of 128cm+. For trousers from over the length of 44" /112cm outside leg length or a waist size greater than44"112cm. For coats with a length over 50"/128cm.
2. For shirts with a chest size over 47"/ 120cm, waist sizes over 128cm or from back length for shirts and jackets of 85cm.
8 Order change after placing the order.
1. Order change requests must be made in writing and cannot be accepted by telephone or in exclusively oral form. They must be submitted either in writing by E-Mail or in person to our office
2. confirmation thereafter will be given in writing or verbally.
3. Orders that have been started on/cut only in special circumstances can style changes be made an email confirmation on this point will be given to client either accepting or not accepting the changes
4. For subsequent changes to orders, we charge £20 per order and only if the clothing has not been 50%+ worked on/made when the garment has been completely made or 75% work carried out no changes are possible.
5. It is preferred that no changes are made once an order has been started on any changes made on garments after order is started on, we accept no responsibility if garments do not fit when delivered
6. Change requests can be considered and considered if the production of the garment in question has already begun, and it must be established at what stage the making process is at.
Special agreement in this instance will be required to be given by the contractor.
9 Collection and Fitting
1. The delivery of the goods takes place in our office or your Office/Home/Mess with prior separate agreement to the customer and generally where the order was initially placed.
2. The deadline for collection of the garments is 4 weeks from the date we give confirmation that garments are ready
3. The fitting of the garments is carried out on the day of delivery/collection of garments.
4. Shirts and blouses should always be washed before the first wear, no corrections will be made to them at the request of the client.
5. In the event of changes in size or weight between order acceptance and collection, we do not assume a guarantee of fit. Any change costs incurred will be charged to the client.
10 Payment
1. The last payment if payable in form of balance is due with the collection/delivery date, this payment is the final balance payment as per your order form terms, final payment is made with the deduction of the deposits made.
2. Payments can be made in cash, by bank transfer or by credit card. In the case of card payment, we charge an additional cortege of 3,75% commission added to the balance and above the agreed balance, this is to cover credit card charges levied against us.
3. In the case of late payment by more than 14 days,we charge default interest at a rate of 8.75% APR, interest on open balance of order calculated on a daily basis and charged /added to your outstanding balance on a monthly basis. An admin charge of £5 is made for each administrative action made to administer a customer's debt situation and is payable
4. Admin charges are added to outstanding balance and interest is calculated on gross amount. 5. In the event of a chargeback/unpaid transaction by the client's bank regarding a payment /default/debit situation, the transaction will be forwarded immediately to a debit collecting agency for processing. All initial return fees will be required to be paid by client plus a one off £20 administrative charge as well as all external costs incurred from a debit situation will be liable to be paid by client all Lawyer's fees and default interest will be charged to the client.
11 Storage of not fully paid or paid goods
1. In the case of a paid garment that has not been collected, we will store your goods for a three-month period after this timescale garments will be donated to Social and Charitable beneficiaries, we will make the garments available for a social /charitable purpose. In this instance there is no entitlement to compensation of your order.
2. This does not affect our rights to withdraw from the contract and to claim damages against you the client.
3. After expiry of a period of 4 weeks from the agreed pick-up date, fully paid garments will be sent to the client without further notice any garments that are available for collection or correction in our office. The costs incurred will be invoiced to the client. In the event of a return or uncollected or disputed order we will try to amicably resolve issue but if no solution is found then we will make the garments available for a social/charitable purpose and dispose of after 4 weeks, In this case, there is no entitlement to compensation.
12 Dispatch of the goods
1. In the apparel industry, it is common for tailor-made garments to be picked up/delivered at the place of ordering.
2. At the special request of our customers, the shipment of the garments can be arranged, whereby our office or the place where your order was placed remains the place of performance.
3. Delivery takes place in the week after the agreed delivery date.
4. Should one or more corrections be necessary after sending the ordered garments, we will only make these corrections if the customer personally returns to our office, or a special meeting /appointment is arranged with the us or our Agent the appointment has to be convenient for both parties.
5. All deliveries are made by cash on delivery or against advance payment. The shipping costs are borne by the client, they will be invoiced to him.
6. In the event of non-accepted delivery by the customer and in the event of delivery, we will charge for each delivery separately. No liability shall be accepted for goods signed for and taken possession of from a third party! if goods go missing the responsibility of the consignment is taken on by the receiver und signee. Only the client is authorized to sign and receive his personal goods.
13 Alterations/Corrections
1. The legal right to post-correction of garments expires 1 months after delivery and / or when the garments are worn or after you have taken possession
2. We are entitled to make several corrections.
3. Even several corrections do not reduce the value of the goods, reduction claims are not legally permissible and if they are made then this is discretionary between client and Contractor/Agent and will be receipted.
4. The contractor does not assume any travel costs for the journey(s) for corrections, unnecessary and additional alteration caused by customer size changes can be charged by contractor to be rectified and a service charge in this instance will be negotiated.
5. Worn garments will not be corrected by us unless specifically agreed charges for alterations may be levied
6. If the client does not carry out necessary corrections by us and uses a third party, then we do not guarantee the quality of the corrections and we will not pay for the corrections unless a special agreement is made and must be confirmed by email.
14 Fittings
In the event of unusual growth deviations from original measures new pieces of cloth or additional cloth may be needed, the customer will have to pay for this and the necessary work to rectify this change, the costing of this will be agreed between contractor and customer.
15 After Delivery
1. After the delivery period, the Contractor shall be entitled to a subsequent delivery period of a maximum of 21 days. After expiry of the subsequent delivery period, the withdrawal from the contract shall be deemed to have taken place to the exclusion of claims for damages.
2. In the event of justified complaints, the Contractor shall have the right to rectify any defects or mis- fitting garments within an acceptable time frame and dependent on what rectification is necessary
16 Quality
Fabrics are a natural product and can behave differently from case to case and treatment i.e. washing and cleaning, despite careful processing, however changes can become apparent in this instance discussion between customer and contractor will be held and suitable reason/explanation will be offered and if necessary rectification of the problem if it is apparent that the fault lies with the manufacturer will be carried ou
17 Complaints
1. Complaints must be communicated to the contractor within 1 week of receipt of the goods at the latest. Otherwise, no changes or additions will be made complaints must be made in writing otherwise acceptance will not be binding. 2. Customary or small, technically unavoidable deviations in quality, colour or fit cannot be objected to.
18 Place of performance
The place of performance for all services is our office or the place where your order was placed, travelling to a different address to rectify a problem can incur additional charges but this can be discussed/arranged beforehand with the contractor.
19 Place of jurisdiction
The place of jurisdiction is Great Britain, Germany wherever and in which Country the order was placed the order may have been placed.
20 Delivery time
Contemporary Bespoke 12-16 weeks, Modern Bespoke 8-10 weeks, Made to Measure 6-8 weeks
Made to Measure Shirts/Blouses 4-8 weeks
The order processing only takes place when the fabric is delivered, and a deposit payment has been received we will quickly inform the customer of any delays by email to their order.
Cloths that are temporarily out of stock are not covered within the Delivery times in the instance of a cloth being discontinued then the delivery times start from when a cloth re selection has been made and delivered.
In the months of June, July and August, the delivery time for all tailoring services is extended by up to 4 weeks, shirts are extended by 2 weeks
The order processing takes place when the fabric is delivered, any delays we will inform the customer quickly by verbal or written communication.
21 Other provisions
1. Should individual provisions of this contract be invalid or unenforceable or become ineffective or unenforceable after conclusion of the contract, the validity of the remaining provisions of the contract shall remain unaffected.
2. These general terms and conditions apply to all contracts entered with Fine English Tailoring Ltd, James Burke.
By signing our order form and making a contractual agreement with us, full acceptance of our terms and conditions is accepted by yourself the client.
For and on behalf of Fine English Tailoring Ltd, Please direct in all instances your contact to Mr. James Burke.
Main Office.
Fine English Tailoring Ltd
273-275 High Street
Wellington House
London Colney,
St,Albans
AL2 1HA
England