Bespoke – Specially Made For, this is the meaning for the word Bespoke
When you have a Bespoke made garment, you create and direct what style you would like. Your choices are immense. Cloth Colour, Lining Colour, Style of Garment, Dimensions of lapels, Length of Jacket, Width of Trousers, Belt Loops on Trousers or Buckle Side Adjusters, Buttons for Braces, Slanting Side Pockets, Straight Side Pockets, Slanting Pocket on Jacket with a Flap or Not, One Vent in Rear of Jacket or Two?
The choices you will be given go on and on after all this is exclusively made for you!
This is Bespoke
Our Tailors will discuss all your wishes and requirements whilst we do this we are getting to know you and also learning about your personality which is very important in guiding you with cloth choice, style, shading and colour choice, for you these are all things that are considered at this initial consultation phase of creating a piece of art.
Creation
When we have discussed and agreed on all aspects of what you would like, the artistry begins, the cloth is laid out, the patterns marked and cutting begins, your creation from then on starts to take shape.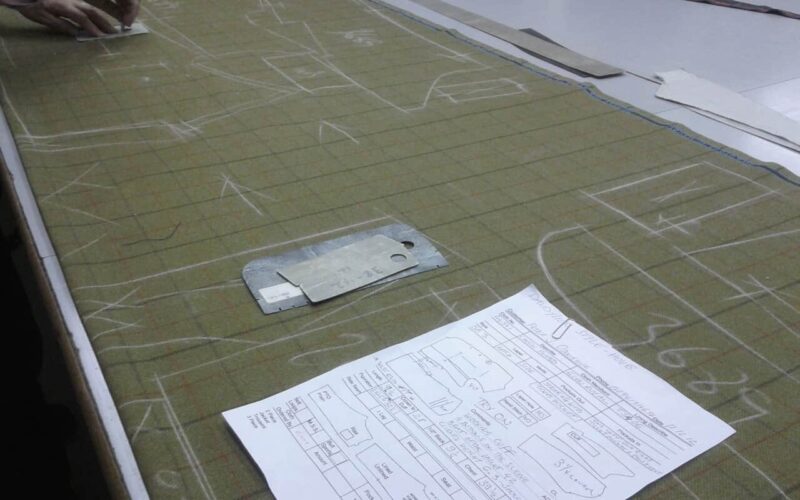 For Cloth choices, I personally would not recommend a wide striped suit if you were of a quiet nature nor would I recommend a wide loud stripe if you were a very confident and outgoing personality type my personal experience is let the customer find his cloth after all he knows himself and will find the cloth he will love just like looking and finding a beautiful partner when you see what you are looking for you will know that's the one!
I guide and advise customers and if I think you are choosing something I don't personally think will suit you i will courteously advise you.
My job on the initial meeting is to get to know you fulfil your wishes in all respects regarding what you are asking me to make and whilst we chat I get to know you I see where the fitting and cutting problem areas will be I visually size you up and note mentally problem areas then voila! I measure you up and take and make all the necessary notes.
All the choices are yours at the end of the day what you are choosing is your wish and it is what you will wear with pride, love to put on and love to be seen in.
Lastly my personal approach to tailoring I don't do this with money in my mind I know if I do my job properly you'll pay me No! I do this for my personal passion a passion for cloth thinking about seeing it fit nicely and to see the smile on your face when we are finished and knowing what I have done for you is right simply that.
I look forward to welcoming you into the world of Bespoke!